General Mc Crystal goes Gaga at Rollingstone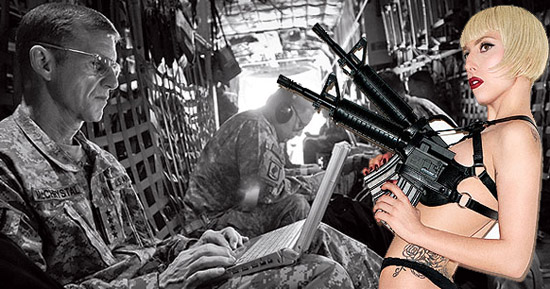 Chefe commendatore for tuti kAfkanistan General Mc Crystal, first faded away in an senator hearing and than fame and glamor bullets hit supreme commander Obama in the foot. Life at Tora Bora dessert caves is far from fun, so brave Mc Crystal and his team, took some time off and thought, they can have a dance. Almost beautifuly outfitted as Lady Gaga and talking what is on your mind, I mean lyrics, the general went on stage. Lady Gaga wears now two sub machine guns and the general was fired. Good pretext to strike a deal with Talibani Mullah Omar and get the boys back into the barracks. Or was this a marketing coup? We all know Washington is a snake nest and the military guys making just a job. read Rollingstone: The Runaway General.
" IMPORTANT -- PLEASE DO NOT INCLUDE THIS -- THIS IS PERSONAL AND PRIVATE INFORMATION AND UNRELATED TO HIS JOB. IT WOULD BE INAPPROPRIATE TO SHARE. MY REASON FOR THIS IS IT WOULD PRESENT AN UNDUE COMMAND INFLUENCE ON JUNIOR OFFICERS OR SOLDIERS WHO SHOULD MAKE THEIR OWN POLITICAL DECISIONS. THERE ARE VERY STRICT RULES IN THE MILITARY ON SEPARATING CHURCH AND STATE ON THIS SORT OF STUFF -- HAVE TO KEEP OUT OF POLITICAL PREFERENCE AND PERSONAL CHOICE."
"HE DOESN'T CARRY THEM. HIS PROTECTION DETAIL MADE THEM FOR HIM AS A JOKE AS WELL AS A SPECIAL HOLDER IN THE CONSUL OF HIS VEHICLE,". "IT CAME FROM ONE DAY M4 [a military shorthand for McChrystal's rank] WAS TESTING HIS PERSONAL STAFF TO MAKE SURE THEY HAD EVERYTHING BEFORE WE LEFT FOR A MEETING. 'MY GLASSES?' 'CHECK SIR' 'MY BRIEFING BOOK?' 'CHECK SIR' 'NUNCHUCKS' (HE WAS JOKING TO SHOW HIS STAFF THAT THEY HADN'T THOUGHT OF EVERYTHING, SO THEY WENT OUT AND HAD A SET MADE FOR HIM."
I say to this the general planted his retirement very well, as a crystal in a rolling stone, the "My Life" book contracts cant wait.