Draw a simple line right now!!!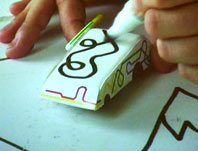 DRAW A SIMPLE LINE RIGHT NOW!!!
I have been the MA Interaction degree show from Royal college of art, one of the most successful "Sketch-a-move" project developed by Louise Wictoria Klinker and Anab Jain. Can you imagine you can draw a "track" on the top of the car itself, which is then converted by a processor in the car into direction that the car will follow. Draw a circle or square, and the car will continuously drive in a circle or square. Draw a straight line and it will go in a line and stop. Wow... their idea were completely changing the perception of human mind, such as how we control the cars without our own hand. This toy invites playful interaction. I thought it is really petty cool when I played with it.
http://www.anab.in/
pt researcher-Perry