It Kills Me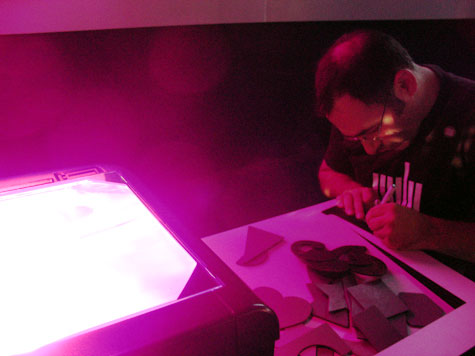 There I was, at Ars Electronica Centre, checking the permanent collection of the festival. The Centre does appear a little bit "touristy", sort of an amusement park of new media, but it still bears important and impressive pieces, such as the distorted house of Toshio Iwai; that is just mind blowing.
On the last floor, by myself, my performance of Golan Levin and Zab Lieberman's "The Manual Input Sessions" began. The piece was created in 2004, and presented Saturday, day when Ars Electronica took place at St. Florian monastery. The piece/performance is "a series of audiovisual vignettes which probe the expressive possibilities of hand gestures and finger movements." Check on the website www.tmema.org/mis.
While developing my experience, a guys steps by my side and asks "So, is it workin?". Yes, it was, and the guy was Golin Levin. He was very polite and thankful when I complemented him on the performance of the previous day. Nice folk. We chatted a little bit and he tells me he was there do do something that he never wished to do, write instructions on the installation "it kills me". As I had seen the performance before, after probing for a while, it was no problem to understand who it worked, but he told me people didn't get how to switch modes (it has 3 possibilities that are selected by placing a number over the projector). Unfortunately, I forgot to ask if the need for instructions came from his perception or in fact the Centre had asked him to do it.
Check a part of the conversation in video.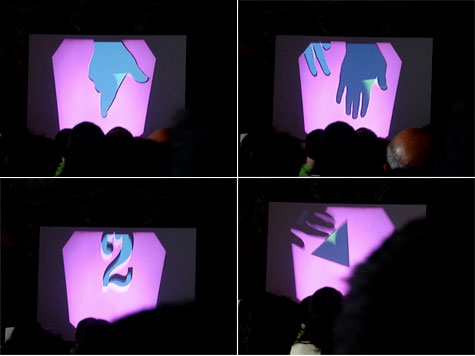 Frames from the performance at St. Florian.